War of the Clouds
May 28, 2013
The wind screams its battle cry,
Urging the troops onward,
Sending them crashing together,
Like two magnets torn apart,
Finally meeting once more.

It's hard to tell the sides,
Each cloaked in billowy white robes.
Who's winning?
Who's retreating?
What is going on up there?

The dragon breathes a tumultuous stream
Of cold, white flames.
The rabbit darts around the ashes,
Landing a kick to the dragon's jaw.

Poof!
Another soldier defeated.

The monkey deflect's the fish's fin,
Barreling ahead on its rocket ship.
One! Two! Three strikes to the head!
The gold fish flounders, surely dead.

Poof!
Another soldier defeated.

The rooster crows a warrior's caw
As it clashes with the fearsome frog.
It appears as if the frog is done,
Hopped its last hop.
But look! There's the tongue!

Poof!
Another soldier defeated.

But as battles rage and soldiers fall,
There is one, the most fearsome of all.
A great battle explodes between the two,
both commanders of their crew.

The mermaid and the cyclops
Eye each other warily.
The monster dives in, egged on by the wind,
And is bowled over by the tail.

Thunder rumbles in the distance
As the mermaid heeds its call.
The woman decides to take a chance,
Heading straight for the cyclops' maw.

But woe to the lady and the brute,
For neither would've thought
A great lightning bolt from the heavens strike
And smite them where they fought!

Poof!
Another two soldiers defeated.

And thus, the War of the Clouds is done,
With neither side having won.
And both commanders, being dead,
Leave two armies to hang their heads.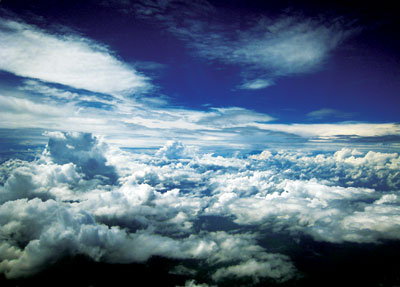 © Jacob W., Oklahoma City, OK