Hallow
May 21, 2013
I've learned how to be hollow.
I been alive for years,
and each year a feather fell from my wings.
But it only takes seconds to create the damage,
that I will forever remember.
Fear is formed and learned,
along with Distrust,
and Hatred is always deeply hidden.
A feather is plucked.

Feeling what is ever left to feel in that cavity,
that spot between the lungs and in the middle of the chest.
A feather falls.

It is not a constant velocity of being hollow.
One day, the process might be slow,
but the very next sunrise
more layers of minerals crowd over that "vital" organ.
A myriad of feathers are plucked and falling.

Don't knock on my exterior,
or pluck my feathers!
But you're human, so by law
written in the blood that runs
through your blue or green veins
you do not listen.
As a human you do not listen,
because you are driven drunk by naive curiosity!
A feather is torn.

Laying helplessly on the floor,
surrounded with that substance,
upon my back and arms,
because you refused
to listen to my protests.
Do not knock on my exterior!
Do not pluck my feathers!
Do not tear them away from my flesh!

Through Time evolving to this hollow thing,
that organ still beats.
...But since being taught fear and distrust,
I am afraid that if I let that pain out...
I know I can not trust myself,
shown evidence is the screams,
hair pulling,
nails digging,
and the most scariest of all: the two voices
in one body.
Hatred embeds its form in everything.
One more feather is torn, and plucked away from the skin, now falling.

If you were given what was left, to hold in your hands.
Without looking you would clasp it
deeply and hard
for it die in your hands,
you would kill it because
it was already dead. You would crush it,
with no hint of mercy,
because who needs something that is hollow?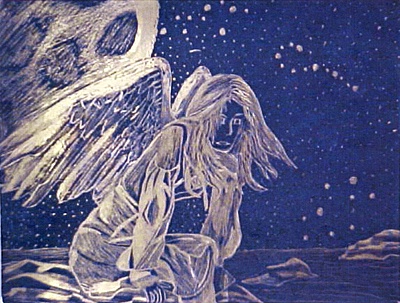 © Kaylen C., St. Clair, MI