Where I'm From
May 19, 2013
I am from pictures,
From crayons and markers of every kind.
I am from cameras pointing at clouds,
Taking pictures of unfamiliar shapes
And swirls of shining colors.
I am from the woods over the hill,
Where I climbed high in the maple trees
And felt the limbs sway back and forth
Underneath me when the wind blew,
Telling me they were still alive.

I am from notebooks,
From lined paper and eraser shavings.
I am from watching the birds,
As they fly joyously back and forth
As if they were swimming through the sky.
I am from wooden pencils
Which have been worn down so far
There's nothing but the bent metal end
And the scratchy wood around the black tip.

I am from dominoes,
From movies and not-so-soft pillows.
I am from the sweet music of a guitar,
Which sat on my lap and sang
In a chorus of many voices I could never match.
I am from dreams that came in the night,
Images and sounds never experienced in the day
That I tried so hard to cling onto
When golden morning sunlight crept through the blinds
And tried to rip them from my mind and steal them away,
Only to turn my back when the battle was won,
And leave those precious memories to be forgotten.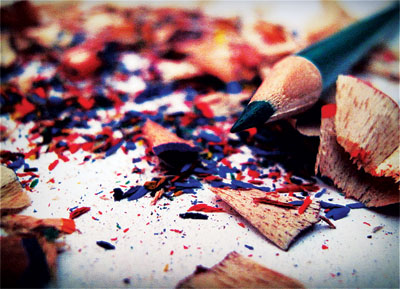 © Rosalee M., Lowell, MA