Altai's Narrative Poem
April 27, 2013
Adventure,
The imagination seeks miraculous pursuits that reach high peaks of adrenaline.
A warrior of two sides stands on a cliff.
With his watchful senses; it can help from even the longest distances.
People call him a savior, a hero, even a warrior from the dark.
I say he is chosen for his own journey.
This warrior fights the darkest of the dark.
The brutality of the brutal, the mysterious of the mystery.
His battle cry resurrects the villain's attention
And by the cliff, the two warriors clash into an almighty battle.
With the water smashes along the coast of rocks
Crash, crash, crash, the warriors have equal power.
The warrior with two sides exhaust with energy,
Pant, pant, pant, a new warrior forms inside him.
A warrior so sinister darkness shrouds around the warrior.
With a victory slash, he starts up rage, him climates up a battle cry.
"Ahhhhh!!!" as he makes the slash.
The warrior with the two sides severes the opponent's leg, by digging the sword half way into the skin.
The injured warrior said his last words before his final farewell.
He falls from great heights and makes great impact into the water.
This was his final crash from the final battle.
Splash! went with the water.
The currents carry the body to the dreading sea.
The two-sided warrior's job goal is accomplished.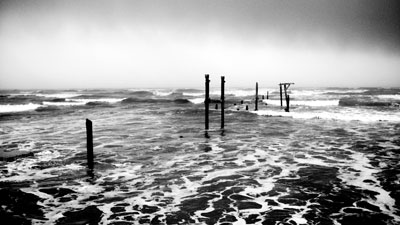 © Harrison L., Ruston, LA