Softer than the starlight on her eyes
April 19, 2013
Tentative eyes peered into the darkness,
Eyes afraid of what was soon to come.
Stared with fear upon the last door,
Knowing yet denying what he knew was soon to come.
Slowly, he walked towards it, the sounds of that old record drifting through the empty rooms.
The vague scent of blood in the still air,
Eerie feeling prickling his skin.
Light seeped through the crack in the door,
A moment of no air,
And he pushed it open, his heart pumping with blood.
Eyes too cowardice to look ahead at first,
Then flickered up,
Upon gruesome flesh.
Hung from a rope she was,
Her neck limp and wrung.
Deep red rained unto her gown,
Lush and turquoise, softer than the starlight on her eyes.
Blood sketched upon the wall behind her,
Blood the color of her lush red lips.
Her hair long and dark,
Her skin pale and more beautiful than the summer moon.
In the darkness and the light she looked more beautiful than the sunset,
Lost yet peaceful.
Destroyed by this cruel world,
Her flame stamped upon,
A tear still rest upon her cheek.
Lost of any strength, he fell to the ground,
Weeping in her inevitable glory.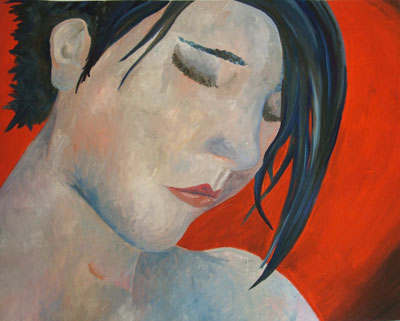 © Lindsay S., Billings, MT