Aching
April 16, 2013
Standing by your side, in your arms,
I know that what I feel is love.
I feel my heart expand like a balloon,
And release in the form of giggles.
But when we're apart?
It hurts. It pains. It aches.
I miss him. I want him. I need him.
And worst of all, I start to question everything.
Is what we have what's best?
Why in the world do I love him?
Why in the world does he love me?
Does he love me?
The balloon in my chest deflates,
And I feel completely defeated,
Crushed under the weight of my own thoughts,
And the burden of my worries.
I feel tears well from my feet and work up,
Eventually sliding their way down my face and away.
All I want now is to be with him, to be held,
But I know that after I'll just ache worse.
He fuels the fire that is our love,
I'm the flame, he's the oxygen,
So the more he gives, the more he takes from me,
And the more it hurts, and the more I want.
I don't want to run. I want to stay.
I want to stay, trapped by the aching,
Trapped by the wonderful I pain I feel when I'm not with him,
And by the joy and beauty that exists when we are together.
The pain in my chest is gone when I'm with him,
Replaced by electricity, lighting to the heart.
It's like a jump start to all of me,
And it makes the soreness I feel all worth it.
Wrapped in his arms, I've never felt safer.
Protected, warm, I know he'd never hurt me.
I know he loves me, and he always will.
Well, always, expect when we're not together.
What if I've messed up? What if I did something wrong?
What if he's found another girl to love?
There's so much to worry about, and the aching starts anew.
But dissolves the moment I see his face, feel his touch.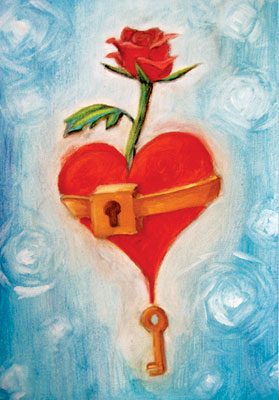 © Louisa L., Pleasanton, CA