Strangers (Right Place, Right Time)
April 6, 2013
We pour our heart out to strangers in coffee houses

and people begging on the street.

We don't put up our walls when we know

they don't have a chance to tear them down.

It's so much easier to let the cashier at the gas station

in Omaha know all the things you were

too afraid to tell him before he left.

It's so much easier to laugh at your mistakes

with people who didn't see you go through them.



We were told at a young age not to talk to strangers.

To say nothing to the people sitting next to us on the

bus and walking their dogs in the park.

But it was exhilarating, at that young age,

to disobey our parents and become friends with the

nice, colorful lady who lived on the corner

with her shopping cart filled with bags and other old things.



So it's no surprise that now, after growing up and

realizing that the world is different from when you were five

and your daddy still came home every night; now you still find

comfort in confiding to those so unlike yourself.

Those who can take your burdens away just by listening;

those who will never say a word.



It's so much easier to tell your life story to

the guy on the subway and the friend

of your grandma in the nursing home.

It's hard to be fearless and face the people you love

with the truth; it's hard to show them what's

hiding in your heart, pounding on the

door to be let out.

It's so much easier to kiss a stranger and

let them thouch you, than to go home

and face your lover and the habitual lies

that have plagued your home for years.



Our mothers took great care in making sure

we walked on the opposite side of the street

from curious strangers, but as always,

we ignore what our mothers say and then let

everything out to the first unknown person

who crosses our path.

It's beautiful, what we must know

about thousands of strangers.

We're all flies on the wall, as long as

we're not in our own social circles.

We're all flies on the wall; we hear secrets and,

because they told us

and not their best friend, we let their secrets be.

That's the beauty of strangers.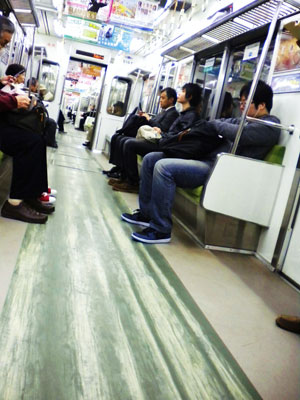 © Abigail W., Kamuela, HI