Fall of a Sibling
April 4, 2013
He never would have gone,
Had he been my error,
He never would have gone,
For he'd be glued by terror. 
I laid down my life,
To save a worthless one,
And when he forced the knife,
It was all but done. 
He inspired a spite,
Sparked a need for revenge;
I could go all night,
It never need end. 
The muttered curses
And darkened brows,
The storm worsens
But he refuses to bow. 
I rise from the grave,
With a taste for blood;
My hunger I can't stave,
As I normally would. 
I now stalk the night,
Hiding from the sun;
Him I will fight, 
For I'll never run. 
He was to die,
But I intervened, 
And before I could cry,
My world careened. 
I became a monster,
A stealer of life, 
One that I'm sure,
Created all this strife. 
I became a vampire,
To save him from a fate,
That if let to my sire,
Would lead to self-hate. 
I lost all control,
And slaughtered my love, 
Consuming her whole,
While the stars watched above. 
Now for his end,
He will soon die,
And my wounds I'll tend,
While the stars cry. 
He is the cause,
For all my pain,
No need to pause,
His death is plain. 
I will plunge the knife,
To its rusty hilt,
And drain his life,
Without any guilt. 
Through his heart, 
And into a lung, 
Ripping him apart,
Devouring his tongue. 
I'll eat his pump,
And then his eyes,
Though juicy and plump,
They'll help see through his lies. 
Now as darkness falls,
I prepare to attack,
Attack the walls 
Of this blanketing black. 
I'll stalk his scent,
And prepare to pounce;
I know where he went,
And that's all that counts. 
Wait! I cannot,
I cannot enact,
What I thought,
Of how I should act. 
He is my brother,
He shall not die;
There will be some other,
For I shall not cry. 
He means too much,
To me to kill,
Him, I shall not touch,
Not even against my will.
Wait! That noise,
It sounds so close,
Like someone poised,
To take the most. 
Is that a stake,
Hurtling toward my heart?
What to make,
Of my sudden depart. 
I see my brother,
The one I have spared,
He's doing the other,
But he doesn't care. 
It struck me,
Right through the chest,
But now I think I see,
A long, peaceful rest.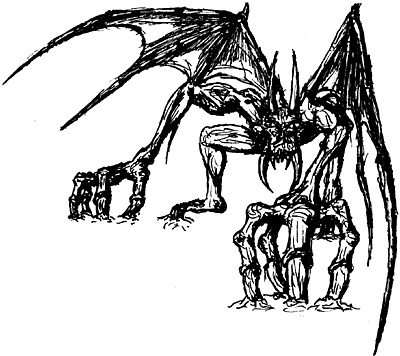 © Manuel F., Phoenix, AZ