Quest of the Sidewalk
December 13, 2012
She stuck her arms out to her sides fighting to maintain her balance as she walked along the steep cliff of the sidewalk edge.
She wondered if the sidewalk ever ended, coming to an abrupt stop at the edge of the earth.
She felt the rough dry skin of the autumn leaf held in her hand.
She wondered where the sidewalk DID end, anyway.
Step by step she walked, feeling each pebble beneath her sneakers and mismatched socks.
She wondered if she would ever travel to the end of the sidewalk, walking on and on collecting leaves.
She saw a bird flit past in her peripheral vision, silhouetted against the muted colours of this autumn sunset.
She wondered if it was an incredibly far place to go, the end of the sidewalk.
She murmured a whispered a hello to the old man, not wishing to disturb the peaceful air as is whooshed by her face in ever cooling breezes.
She wondered if anyone would go with her on the journey to the end of the sidewalk.
She let a leaf go from her fingertips, watching the breaths of autumn carried it away, scritch scratching its surface against the faded asphalt.
She wondered if that someone would hold her hand as they walked to the end of the sidewalk, steadying her as she tight rope walked along.
She came to the end of the sidewalk.
She stopped.
She smiled.
She found a new quest to engage her imagination on this sweet evening stroll.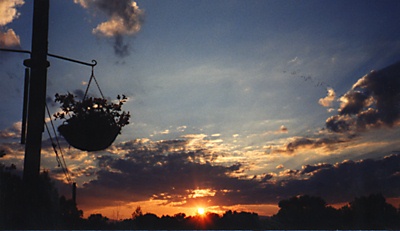 © Christy S., Germantown, NY