Where I'm From
November 27, 2012
I'm from the hot, humid air of Badagry,

from dusty dirtroads and sweltering sun.
From jollof rice every night, tucked-away tears, and the purity of

tiled floors. Palm trees looming, this is where I'm from –
from the Reverends and wooden pews, you know,

the scent of sweat and starch and papery headdresses as we
ride three-to-a-seat in buses with no seatbelts. And postered walls and shopping malls, lush
roadside vegetation and beaches that burn your bare feet, I'm from here.
And I'm from overhead baskets, heaping –
cowries, kerchiefs, from plantains on the stove and silver
stereos blaring their postmodernisms, concrete compounds. I'm from full, brown lips, knobby knees, my
African hips, from tradition, respect, and piety, though we lust for the sweet A.C. after
haggling at open-air marketplaces. Mud and music and mosquitoes are where I'm from.
And I come from living waters. I come from the wheat,
not chaff – the World Cup-watchers and money-makers, who dance
to drums that talk and these syn.co.pat.ed djembe jams. From handsome dawns and
lovlier dusks, from tall glass buildings behind sodapop billboards and the bright green taste
of laughter – I'm from here. Beside the chicken coops and your basketball hoops, beneath the crinkle
of popsicle wrappers and tin roofs. I'm of Abuja, black gold, and the great Ife,
family extended and praying for the generator to work. From stories.
Hear my song above the hubbub of our youth,

our crowded diners, our naming ceremonies. This is where I'm from – the bangles,
shiny flip-phones. The ek'abo's and o'daro's when faded checkerboards are traded

for Nissans. I'm from dirty sandals and polished shoes, from wading through
standstill traffic. From struggle and bootstraps and the skin of our teeth, and from the keepers I am born.
And I'm from newspaper kites and soldier-ant bites. And I'm from civil strife and
bleeding hearts and Africa Magic skipping across clear tele's. And goats and hens own
the alleys where I'm from, from beaded braids and first-borns, from house help and
things falling apart. And from deaths and departures and meets and greets, the
stubborn grasses hiding my grandfather's grave. But also from pearly smiles, which shine

against our ebony. And the cities, and the townships where we
ponder our future, where sandy clouds hug burnt skies – yes, this is where
I'm from – the darker
hue of humanity, the pride of an imperfect people, the beauty
of my background.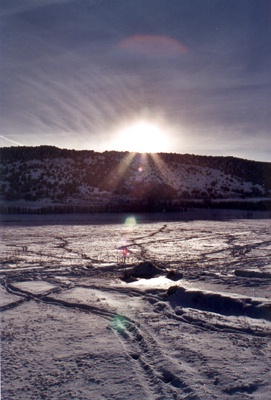 © Brandon T., Manila, UT