A Widow's Wish
October 6, 2012
I held his hand, blue with frostbite
and secretly hoped he would die.
I hoped his eyes, bright and bold
would never open again and that we
would bury him two days from now
after we had signed the papers with blue ink
and sent out stately invitations written
in a navy font gilded with gold.
I hoped that instead of sitting by his bed,
knee deep in blue gowns and blue masks
I would be sitting, dressed in black velvet,
the sapphire pendant he bought
for our anniversary coiled around my neck,
accepting condolences with a tremor in my voice.
I hoped that I would see him
set down in his coffin lined with blue silk
azure cufflinks, bought new, glinting
in the faded light of the dying sun.
I hoped that I would see that coffin lid closed,
shut tight and nailed with lake blue clasps
thrown down six feet deep, amid my tears,
then buried with the blue-black dirt of graveyards.
I hoped that I would visit him year after year,
accept my nod of watery pity
from the grizzled caretakers, lay down
my small bundle of blue iris's and blue carnations
at his grave, steel blue in the wintery light,
then walk back ritually, solemnly
crushing cornflowers beneath my heel.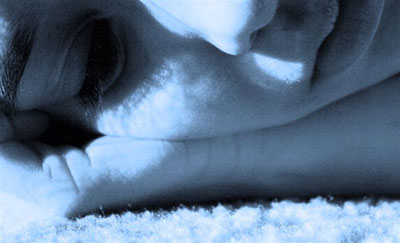 © Paula B., Katy, TX