My Life in the Clouds
September 25, 2012
Never will I shamefully say "my life passed me by"
For my life is a cloud stretched far across the sky.
At first glance I'm beautiful in white
But a closer look reveals the flaws that disappear at night.
A few tiny tears break through the solid shape
A few tiny tears much too big to be fixed with tape.
I move slowly but curiously with no destination in mind
And when I arrive, I'm let down with what I've been forced to find
So part of me moves on and part of me breaks away
One part with common sense, the other that had stayed
Second guesses and what-ifs turns my smiles into frowns
As I gradually cover your night light when I'm feeling down
I can't tell if the kids down there are pointing to make fun
or are they pointing out my indecisive heart that never won
Maybe they're interested in the peculiar form I've taken
A heart, maybe a teddy bear invisibly shaken.
When all becomes more than I can take
I bow my head and cry and cry until I flood the lake.
Sometimes i'm big and strong and don't let anything get to me
But when i stretch and tear, I expose my vulnerability
The little cut that seems like nothing casts yellow across an entire city
As the clouds move behind the sun to drown themselves in self-pity.
Like cotton balls, I break with the pull of two fingers
And even when I look to an empty blue sky, my past lingers.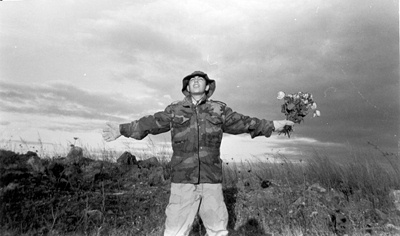 © Sarah R., Marblehead, MA