A Walk On The Moon
August 25, 2012
When I was little,
I would look upon the moon.
My Grandfather would tell me the great adventures on the moon.

He told me some man had been on the moon,
I asked him if that was my balloon,
I had named him Tom.

My Grandfather smiled and shook his head,
He told me no, that it had not been my balloon.
Curious at this point I asked him who.

He responded and told me a strange name,
A name foreign to my childish tongue,
A name later I would know,
A name later I would read about in my history book,
The name was Niel Armstrong.

He went on to tell me,
That in 1969 he had walked on the moon.
He had stepped off bravely and was the first of many to come.
My Grandfather even told me a quote he had said,
"One small step for man, one giant leap for mankind."

That night I looked up at the moon,
I blinked my eyes thinking of Grandfather's story.
Was Niel Armstrong up there watching me now?
I raised my hand up to moon,
I began to wave,
I also wondered if Neil would see.

I watched that moon all night,
Neil did not wave back,
Perhaps he had not seen.
But I had decided one day I would follow his footsteps.
I decided I wanted to walk on the moon.
Niel Armstrong had done,
So why couldn't I?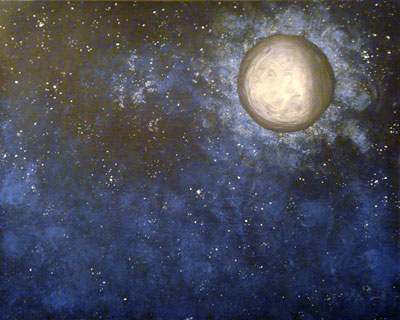 © Allison H., Vancouver, WA