The Lonely Place
August 12, 2012
I saw you standing by the river,
in the dark I tried to hide.
But you found me and held my hands that shiver,
and you brought me outside.

Outside, in your world,
you gave me happiness
when my own world tumbled.
You held my tears in your hands
and promised my life would never crumble.

Every time I thought I fell apart,
and felt no love, no care.
I found you stand right beside me,
saying "Sweetheart I am there."

Times when you felt lost,
with hurting memories
and the past that daunts.
In those nights so fearful,
you knew I would never let you fall apart.

You promised,
As long as you are alive,
evanescence would never prevail.
To not fall apart together we'll strive,
but now all has become a tale.

Not every phase
has a happy ending.
I think not in our case,
I tried so hard to hold it tight,
but now everything is out of sight.

That day you left
but promised you would return.
And I waited with all my hopes,
but now I realize you were forever done.

Now I stand alone along the river,
every memory just so fresh.
A lump in my throat,
in my voice a quiver,
I live this life so painful and isolated.

I live with the burden of my mistakes,
I wonder where have you left.
Every moment ahead is at stake,
you said now no promises can be kept.

But you didn't have to cut me off,
the relation we shared; so tender, so soft.
Now you treat me like a stranger,
and that to me feels so rough.

Every word I phrase,
is now to you so wrong.
To me your dreams still chase,
and now I write this last song.

With time,
you will grow,
may even erase my memories from the core.
The times when you embraced me with love,
now am I just somebody that you used to know?

I look towards the loneliness ahead,
with my eyes closed, a tear I shed.
Living in your memories,
the truths of life I uncurl.
The music of my life stops to rhyme,
'cause I am only alone all the time.
I look back to our start,
our togetherness now erased.
Unsuccessfully trying to mend my own heart,
in this lonely place.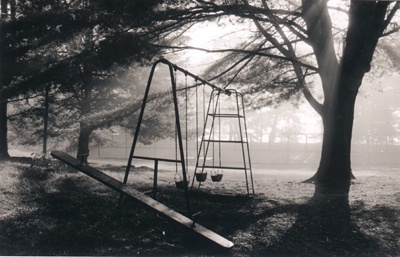 © Steven S., Marblehead, MA