I Had To Turn Away
August 8, 2012
The silence blares around us
But its yells fall on deaf ears.
I'm not worried about the darkness
For you've taken all my fears.
I know the woods around me
Are foreign and obscure
But I'm sheltered in this moment.
Hearts intentions are so sure.
My mind hums a quite lullaby
Words I've drawn up on my own.
I've always kept them with me
For those moments we're alone.
Your hand touches my cheek,
Unseen by my own eyes.
I can feel your breath caress me
As you heave a gentle sigh.
I'm counting every heart beat
Time keeps ticking by.
My feet are planted on the ground,
But my mind's now in the sky.
Your arms, they slip around me
Sheltering from the cold.
My mouth turns to a smile
As I relish your strong hold.
I feel your face lean forward
From where it's hidden by the night.
A melting pot of emotions,
Anticipation mixed with fright.
I've been waiting for this moment,
Counting every day.
Which is why it broke my heart
When I had to turn away.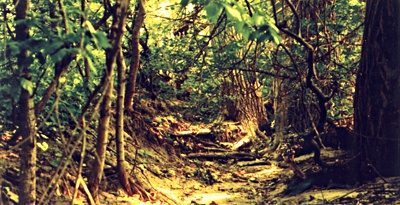 © Dan B., Papillion, NE