TRUE STORY
July 27, 2012
We were young
But she was the someone, she isn't anymore
She was a friend, I cared and said for …
She stood against me
Rigid with affection …
Clever because sly
The pure perfection,
Of no logic tie …
The way she talked,
Sent me butterflies …
And after those years,
After she walked
I became my only wise …
Still she comes by
Say words of love with kisses and hugsstill she tries so hard
But it's like sitting in a garbage killing bugs
Still she wonders why … !
She shouts, yells … !
Old friend, put an "O" not "Y"
The six poems I wrote that eve
The innocent I was
Oh no, he foolish the naïve … !

The six poems I wrote that eve
Torn to pieces
For no reason to conceave
Let go of what I wrote
Listen what I said to her
Word by word, as if now, and never remote

_"The voice I hear calling
Despite the noise in my earphones"
_She asked:" a guy …"
_"I don't know, was frazzled by the tones."
_"you like to be in love ? don't wanna be so?!"
Answered:" mmm maybe …"
And the foolish me was waiting when it will really be
And the foolish me is waiting no more
And I'll tell you why, just listen … you'll see …

She said: "what if you became ??"
I said: "in love ?"
-" Yes"
- "There will be never enough…"

And completed, the source of a regret …
I cheated, myself I judged before I met …

:"the lucky I will love
I will never ever love anyone more …
That I, the one In million
I will show him peace in war …

I will show him light …
In the black night
I will show him a passion
Stronger than love in its might …"


Put those words in a cussion
Listen to the struggle, the fight:
"That lucky I met
That lucky I loved
Showed me the light in the night
Fed my desire in every fight!"

"The promised love,
I promised of …
Was a result of pure emotion
The vow I took or long before I took
Was never dead, out of motion …
Until …
Until I was fatigue
I gathered all the mess
And sold my innocence an antique

Until,
The one I gave my life to
Took away a year or so …
Until
The reality glittered scornfully
The cruelty hissed, giggled playfully

Until,
Trust was betrayed
Angels had evil
Until, the fight grew in me and became civil…"


A story of words I said
In a poetry of bitterness
That's what you've just read

A story of a naïve now aware
A story of a child now hidden
A story of words I wrote in words
Of a sadness I wanted to share
Of a warning not to be ridden….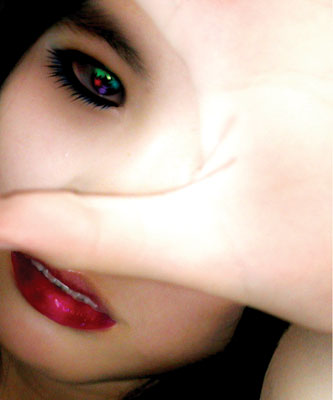 © Victoria W., Arcadia, CA