Omnipresent
June 25, 2012
My mind buzzed with a high-pitched scream, my ears taking in the only sound that caused red to outline the blurry vision in front of me. We were being bombed, bombed and shot, tanks rounding corners and fires ignited by men in big heavy suits who surely had families. I have a family, where are they? Are they burning in the bottomless pits of Hades? He who sent these Americans to destroy my family tree, my lineage, my home. I'm homesick, where's my family? My brothers and sisters, are holes being put in their bodies? Skinny bodies that played ball in the hot desert air or bodies that danced to the sweet sound of my mothers' voice, where's mother? Has she been ruptured inside her body, her clothes strewn over dung and blood? What would father say? Would he fight every man, every brown-suit soldier? Would he cut throats and have holes in his body too?



Another bullet shot by, waking me of my reverie, silencing my humane thoughts, prey instincts kicked in and I ran, ran to home, ran to family, ran to my history. My feet skidded over hard dirt that was soaked with something different than water, something too red, something to clingy. Something that smelled of rust. Rust can kill, so these rust-colored soldiers,.. can they be killed? So merciless, they have no heart, how are they killed?



I stopped in front of broken metal plates, where home was. Except that in it's place laid the same liquid that made my bare feet squeak against dirt, and the bodies of my home. My family was dead.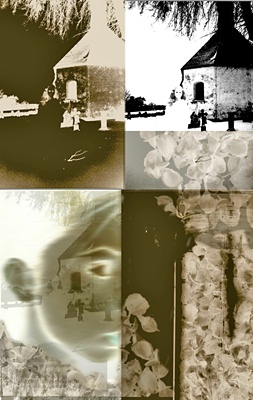 © Shann L., Tai Po, Hong Kong