A Child's Wonder
June 15, 2012
Her eyes dart to and fro
as she peers, afraid, through the moving glass window.
I hold her small hands in my lap and watch her almond eyes grow big and large,
As she watches the passing scenes in marveling contemplation.
She gasps, her hazel eyes widening suddenly,
A light enflamed by child-like observation,
And wonder.
She leans towards the window and edges her head to look upwards,
Her light golden curls falling upon her shoulders as she bobs uncertainly,
Looking at the large blue and open sky.
She focuses her eyes on the friendly sturdy oaks that wave to her through the glass.
The trees are part pasty orange, part cold yellow,
With splashes of left-over sorrowful greens,
she notes.
Leaves gently drip from the ripples of the strong oak branches,
that sway gently with the breath of Wind.
She admires the patterned yet contrasting dewy leaves,
And points her small finger towards them,
Astonished.
What wonder there must be in a child's world…
What wonder there must be in a child's eyes,


In a simple leaf,



In a simple cloud,




In simple Breath.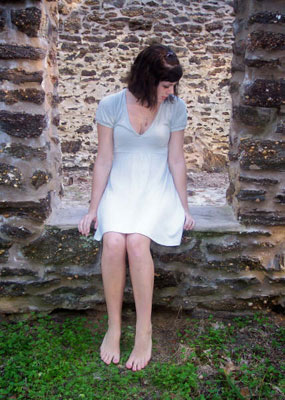 © Katie S., Vineland, NJ