Those Hands
June 11, 2012
I watch her crumble as she tells me the unpleasant news
Her hands trembling, continuously reaching to wipe away tears
Trying to hide her face from my eyes,
her hands ball into nervous fists.

She pulls the covers up close to her body,
that flinches when I try to touch her for comfort,
and she sits still, shaky fingers pulling her hair back,
not daring to let her eyes meet mine.

But I keep staring…

Those hands,
that grew cold, that became distant from mine,
that trembled as she spoke, I remember so well,
the memories they hold…

Those hands,
smoothing down a fresh new dress,
resting lazily on hips as she stood,
with her head slightly raised,
admiring her beautiful figure in the mirror ahead.

Those fingers,
slowly running through my hair,
tangling in the tight messy curls,
making the stress and burden of the day vanish.

Those fingers,
the ones who reached for mine at night,
traced my unshaven face, my neck, my shoulders…
her body becoming greedier by the touch.

Those hands,
that held her camera to capture beautiful images,
pieces of her life played out in hundreds of photos,
every click to preserve great memories.

But some memories aren't so great...

Those hands,
Sometimes turned hateful, destructive,
formed into fists, pushed me away, punched at me.
My hands gathered her arms, held her firmly,
until her breath became calm again, her hands resting…

Now today, as her hands rest in mine,
we fold, heads bowed for prayer,
and we ask to do away with her sickness and troubles.

And afterward, her hands place
gently around my neck, still shaking with fear,
and her body surrenders, becoming powerless,
but inviting me back to her touch.

And at that moment I realize:
I miss her heart in the palm of my hand.
I will take it back with ease, guidance, love.
And never will I let it go.

Never again.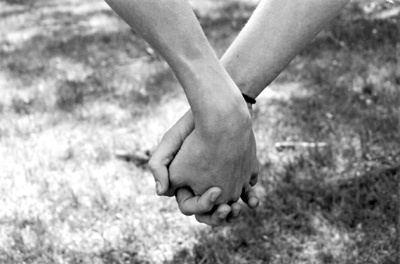 © Alexa T., Pompton Plains, NJ