Trust in TrUSt
May 18, 2012
It was a symbol.
When she wore that dress,
He knew,
He just knew.
It grazed the floor,
She was a snowflake that
Melted not into sleet
But thirst that could not be
Quenched.
She put the dress away,
Tinted yellow,
It hangs in the closest, grazing the floor,
A never ending water fall of amber.

It was a symbol.
When he wore his suit,
She knew,
She just knew.
It shed off the boy she once admired,
Exhibiting what she fell
Madly in love with.
Standing, he wore
The structure of a man on his
Sleeves.
He put the suit away,
Thread unraveling,
Mending the buttons
Was a chore left undone…
Forever.
Locking away his inner tailor,
The suit hung in the closet,
A never ending waterfall of thread.

It was a symbol.
Both fingers felt the weight of a feather,
But the weight of their vows ringing in
Their ears,
A peacefully enforced reminder.
Like all metals, with time
Their rings wilted
Along with the bouquets of flowers.
In a box, they waited the return of Freedom.
While running in circles,




They drowned in a
Never ending waterfall of
Lost luster.


It was a symbol.
A date on the wall
Marked with importance,
A day, once standing in solitude
Stands among many,
Only to be bypassed,
A shooting star
Blending with the backdrop of a
Somber sky.
A succession of numbers,
A never ending water fall.


It was a symbol.
Valuables went astray.
Property that was neglected
Was to remain in a disheveled state of
Affection.
The importance of possession
Was insignificance,
But the meanings behind
Everything held true
Of what they held yesterday.


It was a symbol.
The grace to a dress
Faded,
The vigor to a suit
Unraveled.
The allure to a ring
Dented.


He knew.
She knew.
Who needs a ring
To validate
A never ending water fall of love?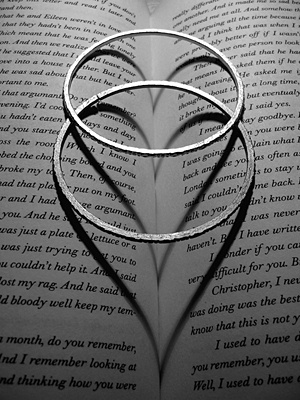 © Julia K., Old Tappan, NJ