On the Roof
April 27, 2012
You have a savage beauty
In your eyes
When you dance.
It rips out of your body
Down the arrows on your wrists
Creating transient stars
In the daytime.

We sing our mutual sorrows in a voice so piercing
It's suddenly at the top of our lungs
Saluting the sun
It seeps into our souls
Wrapping tendrils around our hearts
Together.

Next to the puddle-ocean
These rolling grassy fields of grey pebbles
So alive in our collective imagination
We embrace.

You holding me feels
So pure and simple
A promise of friendship
And
I think I might be a little in love
With this moment
And this wind
And the wilderness up here
That is so alive in our collective imagination

I take off my shirt
The wind rushing in and
I raise the tie-dyed fabric
It's a flag above my head
Consecrating this land
The gravel on this rooftop
Dedicating it to this wild freedom
This invented landscape
And to your soul
Rising and lovely and pure.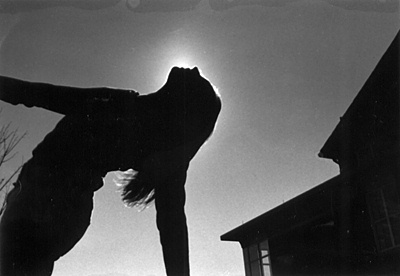 © Alexandra B., Marblehead, MA