The Story of a Holocaust Survivor
April 8, 2012
My name is Bronia
And I have a story to tell,
It was when I was forced to live
In a place more vicious then he**.

This story of he** started
When I was only 12 years old,
In a little old house in Vienna
That was always covered in mold.

One day the Germans
Came knocking on our door,
They said we had to leave our house
To bring only our clothes and nothing more.

My parents were then chosen
As the first ones to go,
We had begged to go with them
But the officers had told us no.

As we hugged our parents
And said our goodbyes,
It took all of my strength
To try not to cry.

They were shoved into a boxcar
Of an evil looking train,
And that's when my happiness
Was flushed down the drain.


My siblings and I were next
Shoved into a small little box,
With a little bread and water
As if we were just a fox.

The train started to move
Into the dark and dangerous night,
While we stood there on the train
All of us filled with fright.

My little siblings kept sobbing
Asking for dad and mom
My older sister and I comforted them
Even though I was struggling to be calm

The nights were cold
And the days were hot
All we had to "go" in
Was a small little pot

We stayed on the train for days
Until we finally arrived at the camp,
A sign spelled Auschwitz, in dark red letters
I then got pushed out as my legs started to cramp

Suddenly there was shouting and chaos
As they forced us to run,
If anyone stopped to rest
They would get shot in the head with a gun.


First they shaved my head
And then tattooed my arm,
Next they gave me clothes
That looked like they were made on a farm.


We went to our bunks that night
To lay down and try to sleep,
When just outside there were corpses
That lay in a piled heap.

The next day my older sister and I
Were assigned to work in the fields,
While the rest of my younger siblings
Were told they had to heel.

We begged them to by spared
That they were too young to die
They just laughed and grabbed them by the hair
As my sister and I solemnly said are last goodbyes

They were sent to the gas chambers
And were thrown into the fire,
My sister and I watched
As their souls flew higher and higher.

My sister got sick with an illness one day
Which spread throughout our block,
The illness didn't spread to me
Because I was as hard as a rock.

The head of the block called me down and told me
The whole block was going to be shot,
But since I was healthy I would be spared
But unfortunately my sister would not.


I pleaded with the officer
Asking if there was another way
He firmly told me no
So I then started to pray

God, O Father of heaven and earth
Please make sure my sister reaches you
Re-unite her with our siblings
So one day I can visit them too

I watched them drag my sister
Into a big deep hole,
And then they pulled the trigger
As the air around me turned cold.

One day I was told
That the front was getting to near,
We then set out West on a death march
And that's when I was filled with fear.

We had to trudge through snow
The cold air nipping at my nose,
After walking for a while
I could no longer feel my toes.

When we finally reached another camp
We were told to find a bunk,
I had to squeeze in with 5 other people
But when I did I just closed my eyes and sunk.


A few days later a siren went off
And that's when we had to hide,
We watched as the Russian Army approached
And that's when luck had finally joined our side.


Gun shots were fired
And the SS officers dropped dead,
We then came out of hiding
As the Russian Army said.

Your days of living in he**
Are no more,
We then cheered hooray
With a mighty big roar.

I will never forget that day
Because it was such a beautiful sight,
So let's make sure this will never happen again
So no one will never again have to live with fright.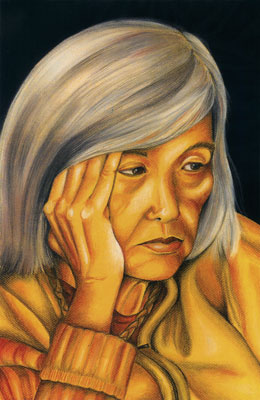 © Kaitlin C., Forest Hills, NY