Let Go
March 22, 2012
A little girl in polka dots,
Skipped along the streets this day,
She gripped the string of her balloon
Color of the morning sun in May,
Oh how she loved her bubble of air-
She'd never let it float away,
But say she had let loose,
Well, people may have heard others say…

Look at that! A drifting orb of yellow,
Closest thing to light I've seen today,
I wonder if it knows where the sun did go,
Maybe the place my husband left long ago,
Leaving his wife a widow…
This world needs more color like that balloon!
I'll garden some flowers of rainbow,
… Smiling feels nice… I've got tulips to grow!

Look at that! A flying lone dome,
Same color of the ribbon on our door,
Showing my papa's still in the battle zone,
He's been fighting in the war for so long…
Maybe it's a sign, Daddy's coming home!
For now, I'll write some letters,
Let the soldiers know they aren't alone,
… I hope he calls soon… Yes, I hear the phone!

Look at that! A lost balloon,
One can lose something beautiful in a moment…
I'm not letting her get away; I'll make her swoon,
I'll save up all my money, buy a nice ring,
Propose to her under all the stars and moon,
I love her! Why have I taken so long?
I'm gonna make this girl my wife, and it'll be soon,
… A simple happening… Now I'm ready to be a groom!

What joy a little balloon had spread
To people wherever it did blow,
But none of that ever happened for the girl never did
Let go.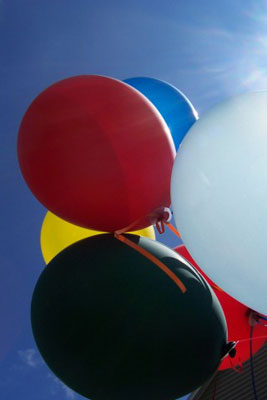 © Simone P., Summerville, SC