Coming to the Surface
January 16, 2012
A bright happy smile
Just for you
I hope it makes you happy
That you can't take
What's underneath

I cried for hours
To try to bring this smile
To the surface
Just for you
You'll never know what kind of pain
You're bringing to me

I thought I had fallen far enough
But when I hit the ground
You hurt me.
You beat me
With your words
And you beat me
With your fists
And I bled to your pleasure
Your sweet satisfaction.

There was a day
You said you were sorry
I was ready to see an apologetic face
You grabbed me by my hair and threw me into the wall
You took me by my shoulders and slammed my head against the brick
Behind the abandoned drugstore downtown
And once you had gashed me open with your knife
You told me you loved me
And I'd never heard it before
So I believed it.

You left me there that cold night.
The rain brought hurt to the wounds you made
I look up at the black sky
Over the city lights
I can't make myself stand
I'm too weak and tattered
Covered with my scars
My vision fades to black
I lay there alone until morning rose over me.

White.
All I can see is white.
Focusing.
Red.
All I can see is red.
Squint.
There.
Beep beep beep beep.
Heart rate.
Who saved me?
I close my eyes and your face
Is tattooed to the insides of my eyelids
It's angry
What did I do
What did I do
To you?

I'm sorry.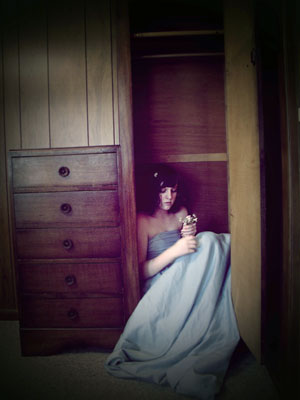 © London W., North Little Rock, AR