Red Balloon
February 9, 2012
Wake up!
I'm talking to you, the nameless, the faceless,
those people you don't see in the light of day.
They're often mistaken for the shadows of other people
who somehow have two. They think to themselves, you don't care.
And you're right, I don't.
I don't care if you're a boy who loves a boy or a girl who doesn't.
I don't care if you cry
in movies rather than lie
and act tough. I don't care.

You think it's so easy, letting go of life like a red balloon
into the sky when really life ends with the

POP

Once you let go we can't get it back though we run along the rooftops trying to catch it.

Catch what? Love, beauty, truth? Please.
That's something you can't find in the numbers of a phone booth.
The shouts of truth are smothered by the honks of
shiny red cars and cacophony of quiet mumbles of people trying to get by.
You might lose your voice and your screams grow hoarse and strained, but don't stop
shouting at the deaf women on stilts so stiff from the
poison in their smiles.

There's so much to see in the bright sun of the day
though the stars are too dim to remind you of why you have to get through the night
to see the sun. Sometimes a shooting star goes by and I wish I could hitchhike on the tail
and burn only for a moment then bail
on this world so set on living long.
But I don't want to ditch before class ends I might miss something important
for the test later on.

What do you want from me?
A face, I can draw you one,
a name, I can write you one,
but I can't make you see.
If I have to build you a house of mirrors I would
if then you would see yourself from all angles.
Because then you might hold on to that red balloon.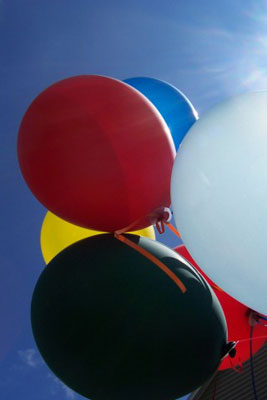 © Simone P., Summerville, SC