Over a Cup of Coffee
February 5, 2012
I could fall in love over a cup of coffee.
Maybe it's because I fall easily.
Or maybe it's because I really just enjoy coffee.

Coffee understands me even when I don't always understand it back.
Flavors change with the seasons,
And I never can figure out if Starbucks or Dunkin Donuts makes it better.
Still, nothing quite compares to a normal homemade pot
using the Columbian roast from Costco.
But in the end coffee is coffee and it knows just what I need.

I bet you love a good cup of coffee just as much as I do.
Coffee can be the basis of our relationship.
Coffee will be our "thing."
Other couples hold hands or go rock climbing together.
But we? We drink coffee.

I can fall in love over a cup of coffee because caffeine makes me feel dangerous,
Like I can do absolutely anything, even fall irrevocably in love.
And you, when you walk into the coffee shop, shaking the rain out of your hair and give me that crinkly grin of yours,
you make me feel like I can do absolutely anything.

Coffee will never fail us.
It helps us understand each other.
It helps us recognize when to let the other be bitter and when to make the other sweet.
It helps us to just know.

Coffee will always be there for us.
Like on cold, bleary Wednesday morning,
Or a warm, peaceful Sunday afternoon,
Or on our porch when we're eighty on a Friday evening.
Coffee will be the constant no matter what else changes.

And all of this, this life we built together,
will be because we fell in love over a cup of coffee.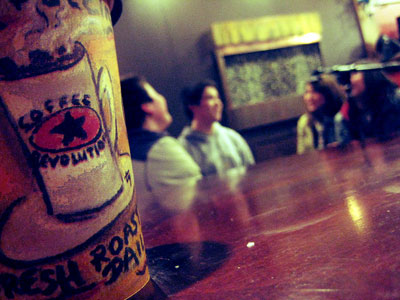 © Seita O., Palatine, IL