In the Meadow
January 29, 2012
I went out to the meadow
One soft and sleepy night
And saw what may --
Never be seen
In the same light.

Hanging high --
The treetip tops --
Corpses swing dying.
Death bell tolls;
Crows aloft --
Carrion angles
Vying for a bite!

Circling above their heads;
Cadavers' days --
Minutes winding down.

The Not-Yet-Deceased,
The Not-Yet-Departed --
Smile up to hollow souls
And tremble to the ground.
Where gentle blooms --
Hidden!
The shadows cut them out!

Branches snap,
Strings plucked
And yarns unraveled --
Unruly hair.
Mort's sly grin --

They fall.
Fall --
Remains and all
To blossoms untainted.
Escape!
Escape, my dears!
Do not tie One's fate
With them!

Trapped they feel --
Trapped they are.
And I?
I do not attend,
Assist or help.
I turn my back --
Unfeeling gaze;
And flee,
Unaffected.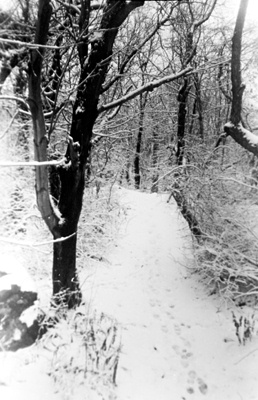 © Kelley C., Marblehead, MA