I'll Wait For You
January 25, 2012
Everyday was the same,
We woke up, laughed, cried,
Lived together.
We thought it would 
Be forever. 
One day, 
The air shifted.
An unfortunate event took place.
Metal, gasoline,
Blood, Screams.
So now I sit,
On a couch of happiness.
On the outskirts of paradise.
And I sing.
And sing, and sing.
Until my voice reaches you.
Finally,
You hear my melody. 
You listen as I sing; 
I'll wait for you,
At the gates of heaven.
I'll put my own fate on hold,
Just to feel your warmth. 
I'll put off resting in peace. 
I'll wait for you 
To join hands with me. 
Never impatient,
I know you're worth it. 
One, two, five, ten.
No matter how many years.
I'll wait for you. 
At the gates of heaven.
I'll wait for you to 
Join hands with me.
Together, 
We will rest in peace...
Soon, soon,
He had given up.
His patience was lost.
He ached for his sweet darling.
And so he let himself free.
Bullet and lead. 
Bang! Dead.
His soul collides with clouds.
Until after what seems
Five score years, 
He finds his love.
Tears, Beauty.
Laughter, Tragedy. 
They meet with such force,
Such love and such passion,
That even the God 
And angels.
All stop and turn to see.
Two souls,
Always meant to be bound.
Finally,
Set free.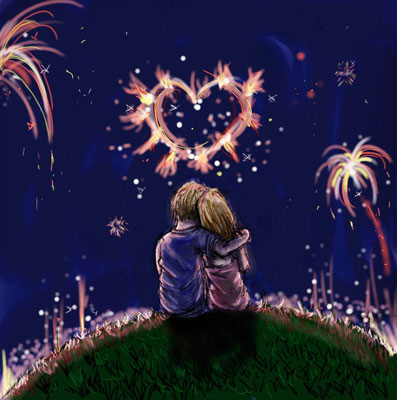 © Carissa G., Aberdeen, WA