I see you hiding, Brother Wolf.
November 20, 2011
I look into your eyes
Have we reached a connection point?
You pace, you run.
You howl as if you can see the moon
Through concrete ceilings
I am alone, as you are.
I am trapped, as you are.
The world presses down
Choking, suffocating.
I envy the rabbits,
They are free to run.
Do you think the same of me, sister?
Or brother?
I am as caged as you.
My concrete ceiling is called
Expectations.
My metal fence is named
Fear
My granite floor goes by
Impossibility
My minuscule room to run?
Society.
I see you leap at Fear-
I am too cowardly.
I see you howl at Expectations-
I cannot reach.
I see you dig at Impossibility-
I have been told it cannot be done.
I see you hiss at Society-
I do not know how.
Your keys are Freedom and Courage.
Teach me, sister.
Brother?
How to howl, dig, leap, hiss.
My keys are a mere adornment.
A tribute to my accomplishments
To rest with my ribbons and trophies.
Though you are trapped, sister...
Brother?
You are free.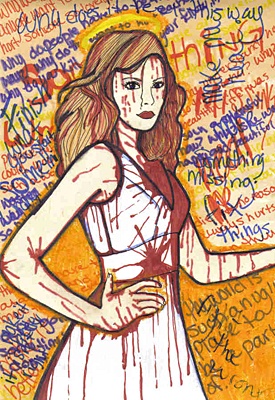 © Sara D., Aiken, SC