Puppy Kisses
October 10, 2011
They are my friends,
My one and only,
Little brown eyes bore into mine,
Sweet master adorning love.
Wet puppy kisses,
A tackle of love,
Beautiful when looked upon,
Questioned by love.
Puppy smiles warm the heart,
Opening up with a tender smile,
Never to be replaced,
Universally known that I love my puppy dog kisses.
Virtually inseparable,
Young and wonderful,
Smiles and kisses,
From the world's two greatest dogs.
Energized bundle of joy,
Joyous little boys,
Collars hang on their necks, claiming they are mine,
Heroes in play battles.
Generations look up to these two little dogs of mine,
Kings ruling o'er their land,
Reuniting a broken empire,
In this house of family members.
During all they still have time for their sweet little puppy kisses,
Zany have tried to get such great dogs as mine.


Only one thing to say,
Sweet little boy puppy dogs,
Giving kisses to all who need.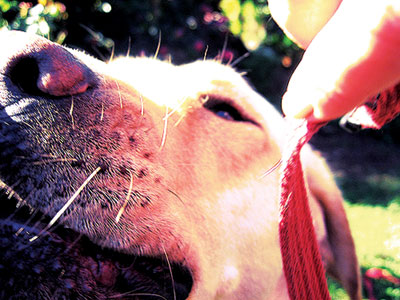 © Kate M., Brisbane, Australia