Lust Love
October 10, 2011
Tight pants
short skirt
you're paying for her date
and as you pass a wink at me
and tip an extra buck
I say, "Hate to break it to you buddy,
but I'm not an easy F***,"
So you take her arm
and hold the door
but I see you for what you are
you may think you look like
a gentlemen
but you're cheap champagne cheese
is nothing but an attempt to
make up for the
Class
no ones got anymore

And maybe you think I'm the bigger stereotype
well, girl, I'm not the one with
a push up bra
whining about warm lips and
wishing they were cold.
I don't understand why you think
that sparkling buffoon
would be better then the boy that calls you
Beautiful
while he cradles you in his arms,
but I'm not into possessive pedos
and psycho stalkers
so maybe it just me
reading between the lines
of another great American
Romance.

But if that's not the case
at least in this culture
no ones got to stay with
a "Person" who won't treat them
Right.
But in a world where lusts called love
and love's called called lust
love lust is lust love
and maybe lust is just lost love
and maybe love is just found lust
and maybe
we're all screwed up

So maybe I've got a
metropolitan mind
stuck in a global life
or maybe it's just the opposite
but I'm sorry sir,
but I think your hair piece
is falling off
and Mr. Too-clean-smile
with-the-cigarette-breath
and-two-girls-on-his-arm
you're not a hunk, you're a w****
and I just think no girl or boy
should have to put with that kind of b*******
because maybe this economy is crap
but no one should have to sell themselves.

And yet they do,
every day -
sell themselves short that is
as they spend two hours in front of a mirror
smearing on their face,
I can't help but think -
Sell your makeup lady
and spend your time in a self esteem workshop
because at least confidence
doesn't wash off.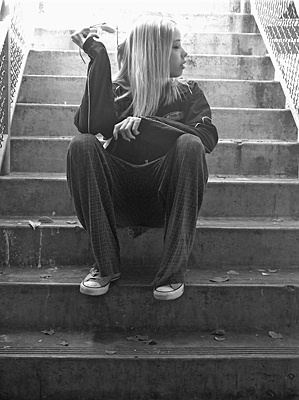 © James M, Walnut Creek, CA