Lucy.
September 25, 2011
I had a dear friend once,
Her name was Lucy.

She wasn't a best friend,
She was a sister
In all but blood.

We went through life together
Never far apart.
And although we both had husbands
We were the halves of a heart.

But Lucy, she had problems
Couldn't connect with people
Stayed in the house.

But not with me,
I cared for her
Til our hair turned gray.

She wasn't invisible to me
I comforted her after each sneer and laugh.
I knew she believed me,
But she also believed them.

Her family had left her,
Gone on from this world
Now she only had me.

I tried to visit her.
She was lonely
Stuck inside her head.

But I had friends,
I had children,
I had a life beyond her.

She could sense it
And she didn't blame me.

So one day she went for a walk.
Left a note saying
"Going to the park"

But when I went there
She wasn't.
I searched for her
And finally found her

At the top of a building
The fifth floor.
I called to her, "Lucy!"
She smiled saying she'd waited for me
To say goodbye

I had lived this life with her,
And knew all her pain.
I knew if I asked her to
She would stay here with me.

That was why I couldn't.
She'd tried all those years
Did everything I said, every exercise
All of it
Just to be normal.

It didn't work.

She smiled and waved goodbye,
Hugged my frozen limbs
And stepped up to the edge.

I couldn't live without her.

I cried, "Wait!"
Let me come with you
Let me hold your hand
Let me be your friend
To the bottom of the building
To the very end.

"But, you have so much to live for," she said,
"Why waste it for me?"

"Because there has never been a you,
There has never been a me.
We are part of each other
One and the same."

So I held her hand
Kissed her cheek
Said, "I love you,
My only sister."

And we stepped off together
Like we'd always done before
Air whistled past
Then it all went
Black.

I woke in a hospital
Saw my family at the bed
The nurse said I was lucky
I'd recover in a few months

I asked, "Where's Lucy?"
"Lucy?" the nurse asked.
"The girl who jumped with me!"

My family was bewildered
"Who was Lucy?" they asked.
The nurse looked at me,
"Sweetie, you're in the Mental Institute.

There is no Lucy."

And then I realized
I knew who Lucy was
She was

Me.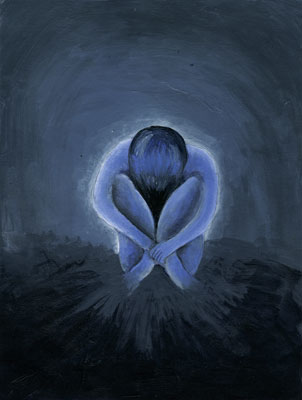 © Becky F., Sacramento, CA