Useless Eyeliner
September 16, 2011
I look at you again,

I look at what is left of you.

All the words that you tell yourself,

That have been burned into your mind,

They have finally worn you down.

You can't carry around all the weight anymore,

The weight of the world,

And still maintain an atmosphere of calm.



There is only so much that you can take,

And now your tears are your release.

Sliding down a face that you despise,

For reasons that you've never told anyone.



There is not enough eyeliner,

Hard rock riffs, or sad poems

That could make you feel any less alone.

Any less distant from the world that

Critiqued you so cruely.

But you allowed it?



You had hid from the fact

That you couldn't fix all of this by yourself.

You're not that powerful

And you made yourself suffer for that.

Every glance in the mirror

Is another stab in what's left of your heart.

You watch the other girls prance around

And know inside that they're eveything

You'll never be.



He's someone who will never look at you,

With anything more than friendship.

And it's all your fault...you never opened up.

And now it's too late.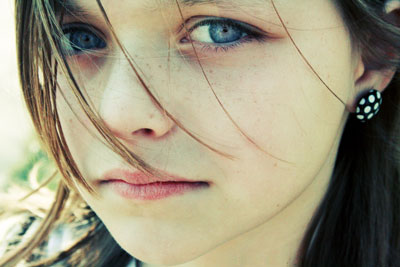 © Felicia R., Arlington Heights, IL