Absolute Freedom
September 15, 2011
I stare at the customers
Walking in
Walking out
I see what they see:

The multiplicity
The simplicity of
Life.
Nothing else exists
But the weathered blue carpet
They rub their soles against.
Little balls of insignificance
Being birthed to leather
No-one knows they are there.
Except me.

I can see what they see.
Boxed in lives of "perfection"
Each to their own region of the
Universe.
They see their own nails
Gleaming and pink like virgin shells
And the creases in the skin like dunes.
They know their nature, their color, their shape.
They know their place, their roles, their existence.
Chains pull them down from
Absolute Freedom -
Ignorance is Bliss.

Your mother lied to you
When you were born
Still covered in tears and the
Water Of Life.
This isn't Reality.

If I can see what they see
My Reality is flawed and leaking
Losing blood, losing faith.
If I can see that they can't see their own existence,
My Universe is lost.
The shells, the dunes, the dancing births from rubber soles.
Everything has disappeared.
Including me.

She stares at the customers.
Walking in.
Walking out.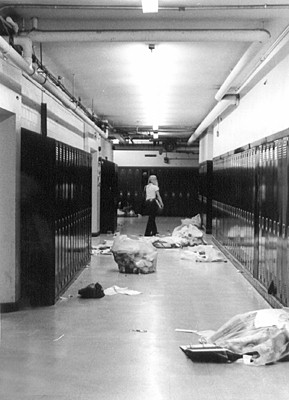 © Halsey S., Marblehead, MA