LOVE UNEXPECTED
August 30, 2011
He see her every day,
She ignore him anyway.
He goes up to say "Hi",
She turns around to say "Bye".
He wonders what he did wrong,
She hurry off alone.

She thinks he is really cute,
He wonders what she thinks.
She likes how he follows her,
Like she's worth a million if he can catch.

He said that he'll redo and try his best,
She waits for him to walk by and he never show.
They both turn around and bump each other in the nose.
They looked each other in the eyes and found love.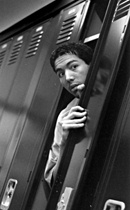 © Paulina A., Marblehead, MA