The Definition of Infinity
September 12, 2011
The thing about space is that it's unfathomable. Past the tiny biosphere of Earth, the numbers are so alien, so large. No one can calculate all the planets in our universe because they are the very definition of infinity.

The cosmos are a never-ending sea of celestial bodies, planets sailing in and out of black waters and stars burning bright as lighthouses. How long have the planets been sailing? My brain feels numb imagining the numeral. Up there, eons fade away to seconds. The grand old universe has no need of time; everything to them is young and insignificant.

Thinking about how incredibly old space is, and how it will never, ever end, makes me dizzy. I like dreaming about the beginning and the end. I like thinking of God painting the first star-lighthouse onto the scaffolding of the exosphere.

I also like thinking of us on our birthday, being born as mere particles. We might claim to be from America or China but really we're all from the Milky Way. That's our home - space. Our unfathomable birthplace, where we'll end up millions of eons in the future, when every last human being has dissipated into the smallest of atoms and Earth shrinks to nothingness.

We'll be cremated there next to the grave of time and we'll disintegrate until God blows on the sea and life flows again.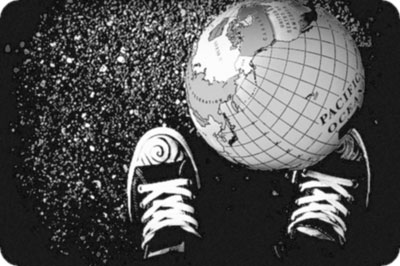 © Kailey E., Crownsville, MD