Middle School Angel
August 5, 2011
writing in journals, enter junior high,
our excitement seems as wide as the sky.
meeting the teachers we'll have for three years,
we run from elementary and kiss it goodbye.

we're at our high point, thinking we're cool
all because we've started middle school,
but we don't know how bad it can get.
we soon realize sixth grade isn't a jewel.

I write how great it is to be alive.
I'm standing at the top and can't wait to dive.
I write about music and learning to sing
and how the notes become my everything.

writing in notebooks, when second year come,
our excitement has faded like a distant drum.
changes appear around all the doors.
they've taken our strings before we could strum.

I cry and I cry for what would be,
thinking their is no one to comfort me.
but I can't see through the blurry tears.
if I'd look above, I just might find the key.
I write when the dragonflies break,
but someone steals my heart from ache.
I write how much it hurts to remember,
and then I feel hope for the first time in forever.

writing our papers, feeling the end
creeping closer and closer as if it's a friend.
we're scared and worried and excited and sad
as we realize how those three years were penned.

we've written each other as we danced through the years,
singing our songs into our lavalieres.
now that it's ending, I feel quite sure
I'm crying for love of the ones I held dear.

I write my goodbyes as much as I can
but am preoccupied by my future battle plan.
I write during my last year in His home,
terrified because I don't want to roam.

ALL I CAN SAY IS YOU BROUGHT ME THROUGH,
YOU ARE THE REASON IT'S WITH THE BIRDS THAT I FLEW.
YOU HELPED ME TO WRITE AND LOVED WHEN I DID,
AND YET THERE'S NO BETTER WAY TO WRITE "I LOVE YOU".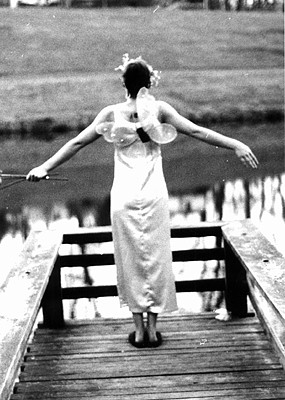 © Jessica T., Cincinatti, OH