The One That Got Away
June 14, 2011
I'm surrounded by the water,
Staring at the stars.
I'm thinking of you and where you are,
Wishing you were with me
Always and forever,
Knowing you don't care
Not now or not ever.

You have stolen my heart
And it doesn't even matter,
Nothing ever pleases you,
Not even when were together.

When I think of us,
I wonder why?
We had nothing in common
No matter how hard we tried.
We spent years together
And now it means nothing.

You said you've wanted to tell me,
Something I didn't expect.
Something that caught my ear,
Something I couldn't forget.
You told me how you really felt.
How we've changed
And grown farther apart.
Our relationship doesn't feel
The same as when it became a start.

You said:
"When we started dating,
We were just kids,
And now I don't feel the way I once did.
I know its hard but it will get better.
We've been through a lot, always together.
Now, I know it will be different and hard at first
But I've moved on and found my way.
I will always love and care for you,
Knowing you helped through every single day.
Hurting you was the hardest thing and
I hope you can forgive me
And all the crap I've put you through.
And I hope we keep in touch
For I will miss you so much."

When you left me for her,
I didn't understand.
I couldn't function for a while.
Every memory that crossed my mind
Made me think of you.
How your eyes glistened,
And how you made me laugh.
How you told the corniest jokes,
Just to make me smile.
How you let me cry on your shoulder
When I needed someone to lean on.
I thought you were happy but
You needed a change.
You couldn't just love me,
You had to have a range.

A year has now gone.
And I still love you,
But have moved on.
I've become a stronger women
Since you left and
Have no regrets.
Everything that happened,
Happened for a reason.

I am now happy that I
Didn't spend another day with you.
I knew things were slipping away
But couldn't say anything.
I didn't want to believe that our feelings
Toward each other had changed.
I liked the way things were but,
Leaving you behind was the best thing.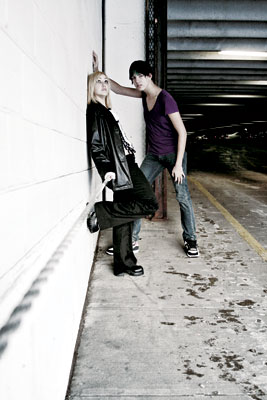 © Jessica F., Bradford, MA