Finiding me
May 19, 2011
I was a mirror of mankind,
lost on the limitless,
rocky trail of civilization.
I had left myself behind
due to destitution.
When I walked on this trail,
I was side-by-side
with the conscious of my mind
and thousands of empty bodies
all in the same line.
Intolerant to myself,
I was becoming a copy of everyone around,
I was nothing new,
just a desolate person
searching for what was inside.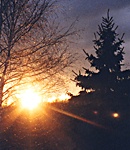 © Christy S., Germantown, NY