Lesson Leraned
May 19, 2011
Now we're moving on, trying to erase all the memories still embedded in our minds
Realizing that it's much harder then we ever thought it would be
I'm over analyzing every single thing that's ever happened in our broken relationship
Only to find that it wasn't perfect to you, but it was to me.

We now have new loves that occupy our minds and hearts
Old emotions that we remember feeling long, long ago come plunging towards us
Hitting us like a huge punch in the stomach, reminding us of the good times
The times where everything was perfect, and leaving was just a bad nightmare.

I look at you now with a million emotions rushing to me
Hate, Anger, Love, and pain that always seems to worsen
Thinking what is it that made me fall in love with someone so cold
Then remembering that love surprises us all, and has taught me a lesson
To wear my heart on my sleeve with pride, but also with caution.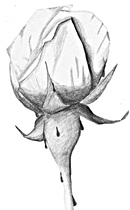 © Elaine S., Phoenix, AZ