Sequence of 1/7 Wonders
April 12, 2011
It starts with a boy, continues with a smile, grows with a kiss, and ends with a tear. Sometimes I wish the sequence was not like this so every teenage girl can live with no fear.

We continue our lives just as the world spins, until another new boy becomes her heart's next big thing. A breath and a sweat, a 'hi' or 'hello,' a small talk or flirt, seems natural and mellow.

Following a text, her heart leaps, she has moved on from the last. The last guy was a memory, only part of her past. As days pass and go, day turns to night, a romance scene that turns darkness to light.

Soon an argument rises, conflict and more, of another girl he once loved, and all the hearts that he tore. The girl remains strong even though inside she's dying, when she knew all along her boyfriend was still lying. A conflict and fight as days still go on. A rip in their hearts deciding who's right and who's wrong. A door slams shut, a tear sheds down her cheek. Regrets or not, she'd still have time to seek.

Seek out more answers, to seek out advice for. Little did she know, she would no longer speak to him anymore, but the girl new better now, she had found the light within. The key to the world to wash her clean of sin.

The girl was happy and free, no drama or more, but still she would continue to try to find that perfect boy she's looking for.

It ended with a tear, which came within a kiss, that continued from a smile and that started with a boy.

She still would sometimes cry, think about the madness from the past and her con. But she knew inside her heart this was the choice that she had made, but she still would not regret the things she did that day.

She knew the earth would keep spinning, the ocean waves at tide, the stars would still be shining, someone by her side. Like moments and memories did everyday they sequenced all along and she knew everything would be alright, life would move on.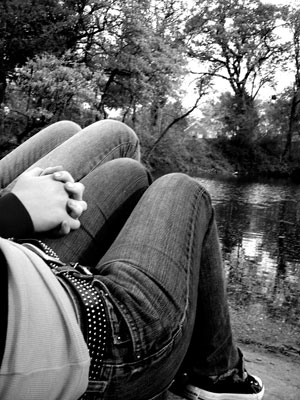 © Lauren R., Edmond, OK