The Overlooked
April 18, 2011
The wind engulfs my soul
The buds on the trees are closing-
somber skies begin take over
What was the sun,
is now a tiny melancholy lemon drop
I watch it shrink
The air smells of a storm approaching
A crow cries overhead,
and hardly notices me
The brittle branches begin to shake
Ceasing to be still
But then again,
is anything really ever still?
The lemon drop is not to be seen now
It absorbed the color out of me,
and disappeared
The heartbeat of the clock ticks faster
That relentless dog keeps barking
And I ask, does anyone hear my
desperate pleas?
Take the time to listen to me?
I've been observing your thoughts,
taking time for your needs.
But still, no one sees the hurt in my eyes.
Even the clouds begin to cry-
on my bare cheek now and,
I cannot be here
Am I that good an actor,
to have the fog not notice?
That I'm fleeting.
So it dashes its troubles, and the touch-
burns my skin.
I depart.
And yet,
The birds still sing.
And the flowers still grow.
Life goes on,
But it pours.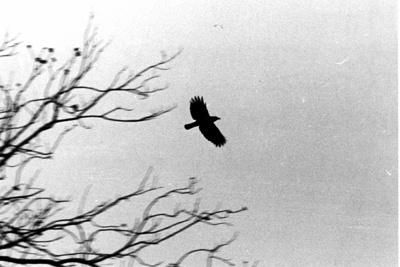 © Jacqueline T., Flower Mound, TX