On the Roof
April 11, 2011
Beautiful April day,
Sing to me, let me feel your harmony.
I found myself here, pondering my own thoughts.
It's a great way to reflect,
On my long and tiring afternoon.

I sit on the charcoal black tiles which-
absorb the radiant yellow energy flower,
the sun.
Like a sponge,
used to wash my neighbors car.
Whom I also watch,
On the roof.

And light reflects off my white dress,
While I'm feeling like a goddess on a cloud.
Up so high
With no one else around
To tell me what to do,
and what not to do.
On the roof.

I have a great view
of the foliage and creamy blue sky.
Littered by the presence of clouds.
The distant sounds of birds,
wind, clattering leaves and branches.
My mother preparing dinner,
underneath.

All around my body I feel warmth, and refreshment
like drinking hot chocolate in the arctic
So then I think of the future-
maybe I will take my Honey up here.
To watch the stars in the summer,

Away from the stress of everyday life,
We encounter on the ground.
and awe over our profound love,
under the bright twilight of the
Milky way Galaxy, counting stars
collecting memories of our past,
taking it in, together-
On the roof.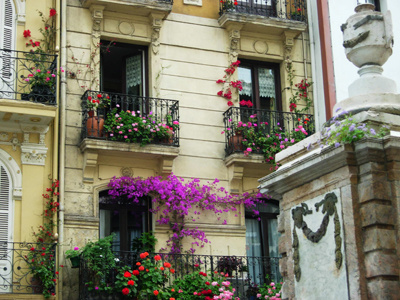 © Hannah O., La Jolla, CA