Meltaway Blues
MAG
April 7, 2011
Fingers tap impatiently at a windowsill,
Lacquered nails clipping against the pane
Like staccato bullets.
Wet blue eyes widen and dilate and repeat,
Staring out into the grey streets like searchlights,
Expectant beacons grazing dead fields,
Orbs framed in black ink and ice-blue powder,
Frosty remnants of seasons before.
Toes peek seductively out of canvas and leather,
Little cherry-red-petal-pink nibs
Waiting for the kiss of a cool air
And the prick of yellowed grass.
White knees, freshly shorn
From their dark winter coat,
Pulled up tight to meet a sunscreen slick chin.
She waits, has been waiting, patiently and attentively,
A china doll in a shop window,
A pin-up in a magazine,
Only she's just a girl in a windowsill,
Dressed for sunny skies but trapped in a sparkling winter glaze.
She longs for the burn of the sun,
The sizzle of heat and crackle of drought.
She wants to be ravished by the ocean,
Soaked in salt and sand and sunshine.
But she only sees the grey, the nothing,
The saturated, shredded, silky-cold grass,
The succulent layers of rich, slippery soil,
The water-filled cracks teeming with decay.
If only she could stretch out on the fade,
Roll her body in the moist earth,
Cover herself with the filth of nature
And will away all of the wintry clean,
The sparkling sharp freshness of a deep freeze.
She desires to coat her filmy attire with black
And sit on her knees, soaking up the recent past
And everything that was draining away.
But instead, she sits in the window,
Milky fist brushing away stubborn tears
As she dreams of what can be found
Underneath the melted waters,
Behind the dew-specked plants,
Beyond the curved glass of a toy-shop snow globe
That had been sitting too long on the shelf.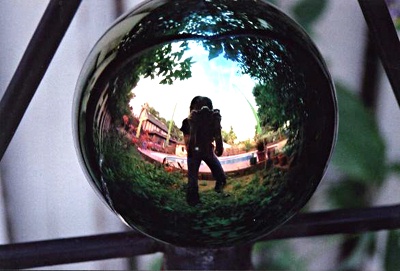 © Alexandra T., Chelsea, MI