Shuffling
March 8, 2011
We wasted that summer, like it wasn't even precious
like my halo and yours would be perched on our heads forever.
I didn't know, you see. I wanted you to
show me what I'm looking for, and you tried,
I guess.

But then July became August became September, which
tumbled into October
And we slept, drugged by the
familiar lullaby of winter.
Somebody told me the world was my canvas
which was true, I guess, in the sense that
it was blank
and white.
Even the sky was white, like
freshly-poured milk.
I couldn't see the stars
from my window.
I couldn't see anything.

Teetering, senselessly seeking balance
on one fine wire.
A thousand miles
in the air, in
the dark.
You had the chance to brighten my world
to carry me to safety.
But you were the faulty map, the broken compass
the light that failed to guide me
away.

Did you even know
the way I loved you?

The way I'd replay your voice in my head
on endless repeat, déjà vu?
At some point, you covered
yourself with a thick layer of fur.
You told me it was to keep the cold
away, but I think
you've wanted me out all along.

And so the cold war began.
Opposite poles, with only the
angel of angst, and deliberate silence
walking back and forth
between us.

And yet, the sun it rises
every morning
And the world news neglects to mention
the way you hollowed me out like a cantaloupe.
But I say it doesn't matter,
that I'm better now.
But you know better than anyone that
lying is the most fun a girl can have
without taking her clothes off.

I keep chatting with myself
trying to believe that the place
where my soul meets body
is still intact, unchanged by
you.

Maybe, down the line,
we'll collide again.
Maybe you'll take me
far away.
Because, "you and me, we're
bad kids, baby"
And some of our insides are
tangled, I think, because
I can feel you tugging on me
all the time.

Until then,
I'll still be waiting for
the windows in paradise.
For that piece of me
that's inside of you to
fall back into
place.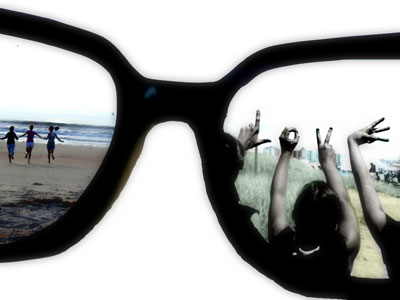 © Christina G., Bedford, NH