Just A Few Questions
January 10, 2011
Can I ask you a question?
Do you miss me?
That first time you kissed me?
We were hand in hand,
With the warm, soft sand,
Squishing underneath our bare feet?

Do you remember that first time,
We danced in the moonlight,
The navy twilight,
Sweet underneath the summer stars' glow?

Do you remember our first fight?
I was shattered and cracked,
Broken, and feeling lost
And then you came to my window,
Tossing stones,
Like those corny romantic shows?

You told me you loved me,
With those gentle loving words,
The wind outside,
Blowing your shaggy hair around,
And I smiled,
I couldn't stay mad,
Couldn't not love you.

Do you remember the scruffy boy you were,
Clumsy and adorable,
Your eyes all a-glitter,
With ambition, with life, with love?
Do you remember stumbling into my heart?

Can I ask,
Is that boy gone?
The one with the kind eyes?
The one who loved me,
When I thought I hated him?
When I thought he hated me?
When I thought we'd lost it all?
The boy who made my dreams reality,
Who gently stole my heart?

If you don't mind,
Do you kiss her in the sand?
Do you dance in the navy moonlight?
Do you chase her down when she turns away?
Did you steal her heart the way you took mine?
Are you the guy,
Who made her dreams reality?

And, can I ask, one last question,
Do you love her like I thought you loved me?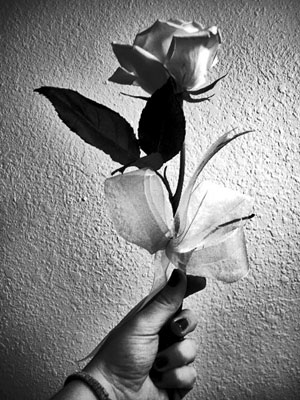 © Lauren R., Edmond, OK