I Purposefully Forgot My Umbrella
December 11, 2010
If I could find any happiness at all in this billowing storm,
It'd be a miracle.
One not comprehended.
Rain pouring down, feeling every droplet
One by one stinging my skin.
Causing a frown and a furrowed brow.
If only I could see straight.
Walking on, I try avoiding the puddles
Each rippling wildly from the impact of Gods tears.
Tears of joy or sadness, I'm unsure.
Maybe he feels what I feel.
But my tears aren't tears of feeling;
They only come from things that have already occurred.
Previous happenings.
Uncontrolled by my ability to keep them back
And repressed in the nooks and crannies of my mind.
I was hoping the rain would hide them.
Make them less obvious…or at least make it
Harder to distinguish them from the rain.
I'm a little too dark to show a red face if I try.
If only I had the ability to be a little more
Optimistic and present tensed than I am now,
This wouldn't be a problem.
My emotions are all of the past.
But as I walk into the building,
I straighten up,
Wipe my face,
And fix my frizzed hair.
These emotions are spontaneous.
And that's why I purposely forgot my umbrella.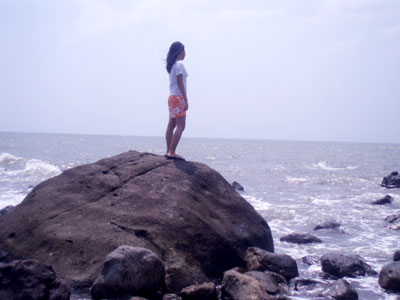 © Grace L., Bacolod City, Philippines