Home Away From Home
November 24, 2010
Everyone has their own place.
May it be a clearing in the woods
That smells of spruce, dew, and sunshine
And sounds of birds and animals racing about.
May it be a secluded bookshop
That sound like rustling pages
And smells of old book waiting to be read again.
May it be a secret place
Where magic is vibrant and beautiful.
May it be a place
Where the impossible may happen,
And where similes come unbidden.
May it be
A home away from home.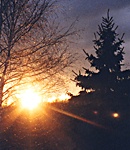 © Christy S., Germantown, NY