Letter To Mama
November 14, 2010
Hey, mama
Your acumen in my life is great, really
But wouldn't it just be lovely if you would back
off
every once in a while?
I'm actually kind of big now-
taller than you-
And when when you trumpet you dust-coated opinions, well,
the notes sound a little flat to me.
Pretty,
but flat.

I'm no hedonist.
I'm no bubble-headed she-dummy with money spilling out of the back of my sky-high skirt.
In my front pocket is a stone the color of reason
(I'm planning on braiding it into a bracelet)
There's a streak of intelligence weaved through my hair
And tied securely around my neck is the bright talisman of my future.
My dreams tug insistently at the edges of my hair
They accost me, yelling,
Come, and be merry!
They wind their gossamer arms around me,
spinning me into a soft cocoon,
cushioning my every fault.
I am my dreams, mama. They carry the light that which mine eyes have not yet seen.

I want this to be the last time your condescending fingers pluck a petal from my stem
I want this to be the last time I have to watch myself wilt with exhaustion
You're supposed to be my buttress,
Not my
d-e-s-p-o-t
I'm determined to reach my acme, mama
And no amount of haggling will make me lower that price;
I'm the merchant now,
I've got the goods,
And all you need to do is sit back and watch me touch the moon.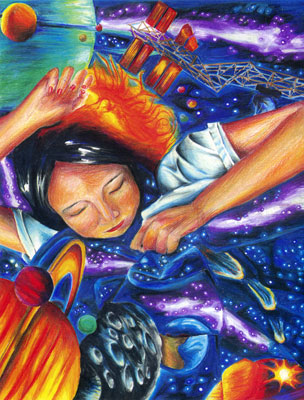 © Samantha P., Flushing, NY