Sound and fury
October 24, 2010
I walk tonight beneath
the canopy of sky,

wind thrashing the trees.

I feel my heart skipping beats
my heart in my throat, beating
my legs beneath me pounding
in a brisk race with the wind
with the Rain
the splatters on my face

I laugh in anger

and break into a run
my soul urging, faster faster
fly into - become the cold Autumn!
(oh, to be lost Forever
in the wind
that steals my breath with each step
Cold stabbing my chest!)
and we scream at a rebellious sky,
I defy you, Stars!

Suddenly –

my heart is empty,
like eyes when they have wept.
My anger has abandoned my feet –
my cry swallowed up
by black, steady Rain.

Be still.
It is a tale told by an idiot,
she whispers.

I know.
Full of sound and fury
signifying

nothing,
I answer.

But the sky is deaf,
darkness does not answer
and even the wretched Rain has deserted me.

I wait,
calm.

But all the rest is silence.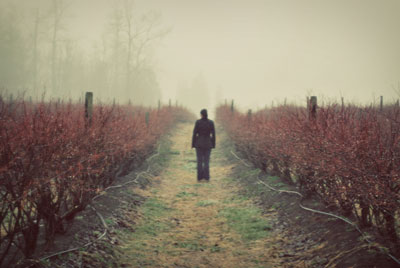 © Molly H., Lynden, WA